Flood Damage
Eurodamp UK - Flood Damaged Property Repairs & Restoration
When disaster strikes, we help get your life back to normal
Do you need a quote for repairs following Flood Damage?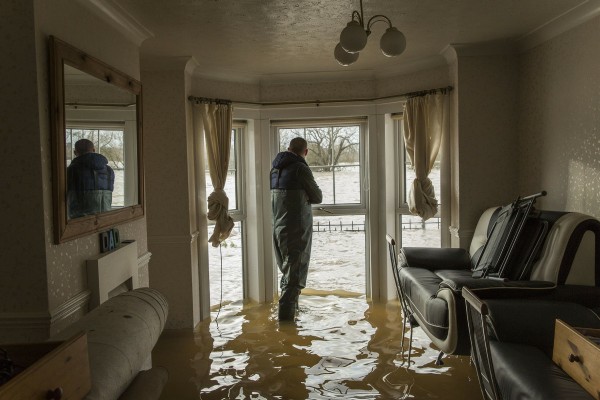 Flooding is an increasingly common problem in the UK and its effects can be devastating. The majority of the water flowing into homes is contaminated, requiring specialist cleaning and drying prior to remedial works.
In order to prevent permanent damage and adverse effects of mould you've got to have the area dried and cleaned as fast as possible. Our expert technicians specialise in dealing with floods and its control. We will remove the water and then install drying equipment, dehumidifiers and air movers before commencing the repair process.
Finally a full anti-microbial decontamination will be introduced to eradicate toxic mould before a full a drying and monitoring process is implemented.
Here at
Eurodamp UK
our professional management team will work on your behalf to help you to organise your storm damage claim and restore your property to its original condition as quickly and as thoroughly as possible.
We're Highly Trained Storm Damage Specialists Covering the UK
As UK leaders in the storm and water damage industry, we have advanced training and expertise, not to mention a tremendous amount of hands-on experience. We use this training and experience to quickly dry your home and restore it back to pre-storm condition.
Need Storm or Flood Restoration Service?
Call Us Today On Free phone: 0800 612 5001
Or Email Us On: info@eurodamp.co.uk

Free Loss Assessing Available
Eurodamp UK
have a panel of experienced Loss Assessors, should your claim warrant this level of help, that we can recommend to you and when using our contractor repair network, this service is free of charge. We also have a team of qualified Drying Technicians, Surveyors and structural Engineers ready to assist when required.
If your have property damage from a weather related disaster, you can trust
Eurodamp UK
to get your property restored quickly and properly. Contact us today if you need weather damage restoration services.
Please Note:
Our surveyors will carry out a free inspection on the damaged property and provide a cost for repairs. However some written reports will carry out a charge to cover operational costs which will be refunded upon completion of works. The average cost of a written report costs from £85.00 to £220.00 depending upon the type of damage / location and service required.
Depending on your location a survey fee may be required prior to a visit and all payments will be refunded once the inspection has been carried out. All payments can be made over the phone using all major credit / debit cards and including bank transfers can be made.